WELCOME
This is the official website of the Roosevelt High School Alumni Association of St. Louis, Missouri.
Our association has been in existence since 2003 with the continued goal of
"Supporting our school, faculty, and students through our time, talent, and treasure."
Click here  to find out more about the rich history and heritage of Roosevelt High School.
JOIN AND SUPPORT YOUR ALUMNI ASSOCIATION
Why should you become a member of the RHS Alumni association?
Each year membership dues and donations provide for two cash awards to help RHS graduates obtain a college or post high school education provided through our organization's scholarship program.
To honor and perpetuate the memory of our beloved high school.
To receive complementary issues or our bi-monthly newsletter, the Rough Rider, containing the latest news on our alumni, luncheons, upcoming reunions, and other enjoyable events.
To help you locate and reconnect with past friends and classmates.
As we are a not-for-profit, charitable organization, membership and scholarship donations may be tax deductible. Check with your tax advisor for additional information.
 ROOSEVELT  HIGH  MEMORABILIA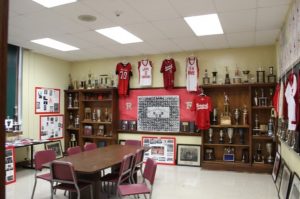 The alumni association has collected many pieces of memorabilia through the years. We have donated the items to the school, and they are now proudly displayed in Room 23 (formerly Room 7). Trophies, awards, apparel, yearbooks (Bwanas), documents, and other important memories are now stored and on display there. Click here to view some photos of the room of memorabilia. Details on when alumnus can visit and view the items in person will be published soon here on the website.
LATEST NEWS
APRIL  LUNCHEON – WEDNESDAY, APRIL 12, 2023
Click on the LUNCHEONS link to make reservations and pay online or how to mail in reservations and payments. We ask that reservations be received by April 1, 2023.
CAR SHOW AT THE APRIL LUNCHEON!
This meeting will feature a display only car show of alumni classic, custom, hot rod,  and motorcycles. Sign up and participate. Click here for details.
2022 PHOTO ALBUMS
Jocks and Friends Annual Picnic
Celeste Knierim Hall of Fame Induction
Next Board Meeting -See REUNIONS AND EVENTS
LUNCHEONS

All alumnus are invited to join fellow alumni at our bi-monthly luncheons at the Orlando's Banquet Center. Luncheons are held on the second Wednesday of each even numbered month.
Click here for the date and time of the next luncheon, a reservation form and directions.  This is a great opportunity to meet classmates and enjoy a great lunch.  All alumni, spouses and guests are welcome.  It is not necessary to be a member of the association to attend.
MEMBERSHIP
If you are not yet a member, click here for membership information and an application form. If you had been a member and let your membership lapse, please consider joining again. There are three levels of membership including a Lifetime option that will free you from dues payments year to year.
ROOSEVELT HIGH SCHOOL HALL OF FAME
A number of our classmates over the years have made significant contributions to various professions such as law, education, medicine, science, journalism, engineering, or architecture or had outstanding success in athletics, trade, business, or technology.
Click here to view those alumni who have been honored by induction to the Roosevelt High School Hall of Fame.
ALUMNI OFFICERS
Gennie Mason, Secretary
June '54

Al Dothage, Treasurer
June '69

Committee Chairpersons and Council Members
Jayne Kuelker, Luncheon
January  '66

Diane Wedel, Membership
January '66

Jan Kneist, Newsletter
January '61

Bill Dees, Hall of Fame
June '51

Larry Daniels, Scholarship Co-Chair
June '64

Mary Ann Hoppe Scholarship Co-Chair
June '70

H. Dean Daniels, Past President
January '54

Joanie Johnson, Member-at-Large
June '70

Rich Stanton, Member-at-Large
June '70

Last edited 17 FEB 2023